Custom Dynamic Gameboard
Notes: Length can range between 125 and 1000mm (4.92 x 39.37 inches) and width can range between 125 and 700mm (4.92 x 27.55 inches).
[No time or would like our help?]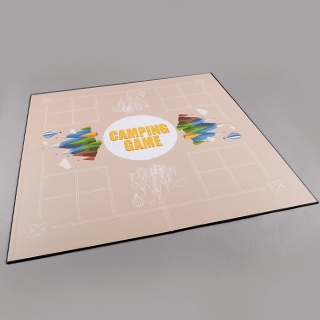 Specifications:
Type: Custom Game Board
Size: Dynamic
Minimum Size: 5"x 5"
Maximum Size: 34" x 40"
Fold options: Non-fold, Bi-Fold, Quad-fold, Tri-fold
Material options:

Standard: 2mm chipboard wrapped with 128gsm art paper

Finishing:

Gloss laminated (smooth finish)
Matte laminated (smooth finish)
Gloss laminated (linen finish)
Matte laminated (linen finish)

Printing: 4/4C
No minimum order: No minimum order quantities or hidden cost
All setup charges and extra cost is waived
Worldwide delivery
Image file tips:
Color Mode: RGB or CMYK for color images, Grayscale for black and white
Images accepted: JPG, BMP, PNG, GIF, TIFF
(Need help on file conversions?)
Image resolution: Minimum 300 dpi
Bleeding: Please allow 1/8" (approx 36 pixels based on a 300dpi image) for bleeding and a further 1/8" for safe area margin inside each side. Read more about image uploads here .
Description:


Component code: PS008026001
Sample video
---
Need help?
We are an internationally renowned tabletop games printing company with huge facilities to cater for any game needs. Our 35 years of game making experience ensures our quality and service is second to none. That's why the largest retail games choose to manufacture with us. If you have any customization needs which you can't find on our site such as spot UV, custom component sizes, unique components, hot foil stamping, plastic molding etc, please contact our experienced sales and technical team. If you would like us to help you on setting up your game component completely, we have just the service for you. See details.
---
Customer testimonial
"Thank you Board Games Maker for bringing my game to life! I am a graphic design student and created a game for a final project last semester. My instructors and classmates really wanted to see it printed and so did I. It's perfect! All of the pieces turned out just like the descriptions on the templates. The game board and box are amazing! And your customer service is outstanding. Thank you! I would love to see you offer regular, 6-sided dice in addition to your custom offerings. I ordered dice from a party supply store instead of drawing the sides of the 6-sided die and putting it into the template."
Michelle Martin, Alexandria USA March 30, 2017