Small Square Game Box 2" Height
Quantity
Price

No set-up charge

1-5
$8.64
6-29
$7.20
30-49
$5.76
50-99
$5.04
100-249
$4.32
250-499
$3.60
500-999
$2.88
1000+
$2.16
Steps
Add your design to the file on Ai or other image editing software.
Save it and upload your file below.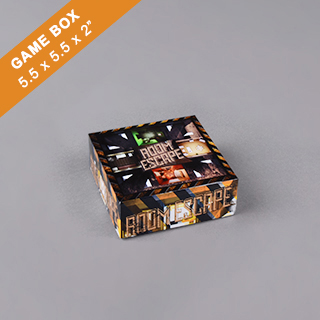 Specifications:
Type: Custom Game Box
Dimensions: 5.5" x 5.5" x 2" (139.7mm x 139.7mm x 50.8mm)
Solution : Suitable for holding 300pcs Bridge cards and Poker size card
Material: 1.2mm premium white lined chipboard wrapped with 128 gsm art paper
Weight: 110g (3.87 ounces)
Printing: 4C/0C
Finishing: Water-proof glossy PP lamination or matt PP lamination.
No minimum order: Purchase this Product with your own customizes design. For pricing please see pricing table.
No setup price: All setup charges and extra cost is waived
Delivery packaging: Individually shrink-wrapped, with delivery packaging box.
Worldwide delivery: Delivery packaged in envelope or packaging box*

* If game box is ordered at the same time, this component will be inserted into the game box which will be shrink-wrapped and with delivery packaging box.
Image file tips:
Color Mode: RGB or CMYK for color images, Grayscale for black and white
Images accepted: JPG, BMP, PNG, GIF, TIFF
(Need help on file conversions?)
Image resolution: Minimum 300 dpi
Bleeding: Please allow 1/8" (approx 36 pixels based on a 300dpi image) for bleeding and a further 1/8" for safe area margin inside each side. Read more about image uploads here.
Description:
Small Square Game Box 5.5" x 5.5" x 2"
BGM small square game box for custom-made games. It's ideal for holding all the necessary game supplies. Yet the game box is great for stacking with other games in your collection.
Game box is an essential gaming component for every board game. Designing an attractive and high quality game box will increase your sales. The BGM custom game box is the highest quality and have the most competitive price. Custom game box is best used for storage and to protect your favourite board games.
Design your own Game Boxes
Made to order game box together with matching set of custom game board. This Custom Game Box can store a matching custom game boards. Making the rigid box united in your own game design.
High Quality Materials
BGM custom game box are the highest quality BGM material constructed of 1.2mm premium white lined chipboard wrapped with 128 gsm art paper.
Storage Size
Create your own custom game box for any type of retail distribution. Choosing a game box will depends on the amount of game components you need to fit in the box. BGM game boxes different sizes. Choose the right size for your custom game boxes.
Durable and Waterproof
Choose a finishing that makes your game box durable and last a life time. BGM Custom game boxes with optional finishing at no extra cost. For durability of the custom game box, we recommend game producers to choose a finishing type either glossy PP lamination or matt PP lamination. Keep your game cards looking good with a layer of protection to keep your game in good condition for many years.
Certified Quality Games Printer
Make Card Games with cutting edge of technology and press production printing systems that performs at top speeds to meet your schedule. So our facility can answer every imaginable game designers printing needs. BGM full color printing suggest to be the best quality using high quality game parts. You will be more than glad to choosing BGM online printing services with the most competitive pricing.
BoardGamesMaker.com, we believe quality, safety and ethical practices because that is our key aspects of our success to keep our customers happy. That's why we have our award winning in-house testing laboratory with full quality certified with international standards and with a green operating nature. Moreover we do complete custom game sets. Just let us know your requirements. Chances are, if you need it, we can do it! Speak to our team today! Or contact us.
Product code:
BGM02A01-01
---
Need help?
We are a world reknown games printing company with many capabilities. If you have any further customization needs such as hot stamping, foil stamping, embossing, spot UV, custom card sizes etc, please contact our experienced sales and technical team. If you would like us to help you on setting up your product completely, we have just the right service for you. See details.
---
Customer testimonial
Other designs
(Total: 6 items)