Gaming Mats 18"
Quantity
Price

No set-up charge

1-5
$6.00
6-29
$5.00
30-49
$3.55
50-99
$3.43
100-249
$2.25
250-499
$2.00
500-999
$1.63
1000+
$1.35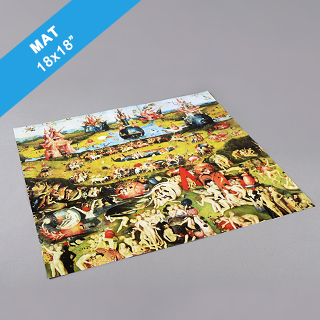 Specifications:
Type: Custom Game Mat
Shape: Square
Dimensions: 18" x 18"
Material:

1/8" thick fabric surface, with standard neoprene back
1/8" thick fabric surface, with Professional rubber back

Printing: 4/0c
Print option: One-sided
Finishing: Water varnish
Package options: Flat packed
Can be rolled and unrolled easily
No minimum order: No minimum order quantities or hidden cost
No setup price: All setup charges and extra cost is waived
Worldwide delivery: Delivery in envelope or packaging box*

* If game box is ordered at the same time, this component will be inserted into the game box which will be shrink-wrapped and with delivery packaging box.
Image file tips:
Color Mode: RGB or CMYK for color images, Grayscale for black and white
Images accepted: JPG, BMP, PNG, GIF, TIFF
(Need help on file conversions?)
Image resolution: Minimum 300 dpi
Bleeding: Please allow 1/8" (approx 36 pixels based on a 300dpi image) for bleeding and a further 1/8" for safe area margin inside each side. Read more about image uploads here.
Description:
Board Games Maker BGM - have the best high quality custom Gaming Mats. Upload your design with our online builder and create your very own high quality board game with custom game mats!

Product code: BGM03B01-01
---
Need help?
We are a world reknown games printing company with many capabilities. If you have any further customization needs such as hot stamping, foil stamping, embossing, spot UV, custom card sizes etc, please contact our experienced sales and technical team. If you would like us to help you on setting up your product completely, we have just the right service for you. See details.
---
Customer testimonial
"This company is amazing! I have never worked with someone who anticipated my concerns and completely over delivered! Communication was perfect. My samples arrived exactly when I was told they would and the final order was a breeze. I received everything nicely shrink wrapped. This company far exceeded my expectation and if we ever have a need for boxes or game boxes I will definitely use and recommend this company. "
Heather Mella, Houston United States November 19, 2016
Your Own Cards Game
(Total: 18 items)