Tuck box for 54 large size playing cards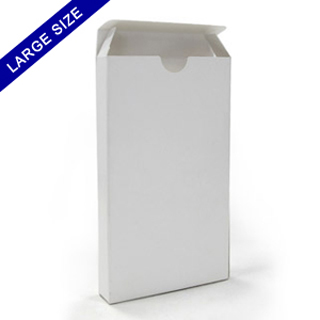 Specifications:
White tuck box

Fits a deck of 54 large sized cards (3.5" x 5.75")
Description:
Perfect for storing your large size playing cards, the durable white tuck box will keep your cards safe from bends and tears. It is the ideal size for storing large cards used for home-made flash cards or cards you design through our services. Keep your artwork safe with this top constructed tuck box.
No minimum order required. Buy 1 for $0.30
Component code: PC12AC26-04
Need help?
We are an internationally renowned tabletop games printing company with huge facilities to cater for any game needs. Our 35 years of game making experience ensures our quality and service is second to none. That's why the largest retail games choose to manufacture with us. If you have any customization needs which you can't find on our site such as spot UV, custom component sizes, unique components, hot foil stamping, plastic molding etc, please contact our experienced sales and technical team. If you would like us to help you on setting up your game component completely, we have just the service for you. See details.
Sample blank cards
Different sizes available. Please see links below. If you need a custom size of blank cards which you can't find here, please contact us for a quote.
Related Game Components
(Total: 49 items)