Custom Game Cards
Start by choosing what to customize
Our wide range of professionally printed playing cards and game cards at prices to suit all budgets and company needs are listed as follows.
Separated by card size:
Separated by types of customization:
Separated by category:
100% plastic cards
Create your playing cards using the very best 100% 13pt plastic material providing better handling, quality and longer lasting.
as low as $7.40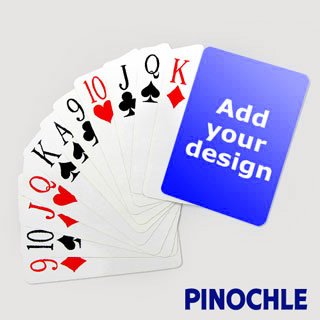 Pinochle cards
Customize your own popular Pinochle card sets containing 48 cards consisting 2 sets of 9, 10, J, Q, K, A cards for each suit
as low as $1
Custom Game Cards and playing cards for any card games
Custom blank game cards for any purposes. BGM Custom Game cards and custom playing cards products is high quality and very durable. BGM game cards are blank on both sides on front and back. Therefore, online printing services customers can print any design to match any new game production. Great for trading cards, card games or educational kids games.
Create your own board game idea to make your board game come alive!
Fully customize both the front and back of the cards with your images or artwork. Also print playing cards without the playing card index (ace to king) other than the standard 54 card deck.
Game Cards Design and custom card games printing options for front and back of cards include: More innovative ideas to use blank cards? Print your own product catalogue or portfolio of your work on each cards. Cardistry or casino cards player make personalized playing cards that they prefer to use. or for personalized gift for someone special. Design your own Custom card games or make custom design Playing cards. Our game cards uses the most high quality materials. Moreover, it's more cost effective than a brochure. Great for Trading game cards Promotion, corporate gift Product, service flip cards, Work portfolio (model agency, graphic designers, interior designers, landscape designers, fashion designers, photographers and more). Venue and catering presentation (rooms, facilities, F&B packages) Educational training institutes Party / wedding favors Pre-event promotion / invitations And more. The choice is endless! Card games Creator makes it easy to print card games. First of all have your graphics designs ready for upload then add optional text or Background color by choosing from 35 different color palette.
Blank game cards are the perfect cards for designers to create card games and custom trading cards. It is easy use our easy-to-use online card games creator. You can choose up to 234 cards in a deck of cards and personalize each custom card games individually or print on demand the same designs for all card games.
Online printing game cardsand custom playing cards with no minimum order and at the best price. >em>Print card games at BGM you are guaranteed with the board games printing service. As a result the highest standards card game publishing with excellent print quality and materials. Furthermore BGM can provide expertise color-proofing, online printing services and different coating options. Create your card game now!